Earthstewards Projects
PeaceTrees.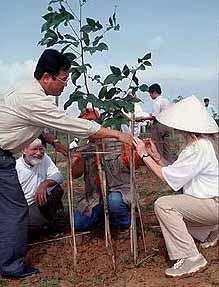 Our founder Danaan Parry conceived the idea of promoting friendly relations between traditionally conflicting people by getting both sides together to do something positive and beneficial to all: planting trees. There have been many PeaceTrees projects completed so far around the world in places like Northern Ireland, South Africa, Palestine, Camden, NJ, Brooklyn, NY, and Los Angeles, CA. The grandest in scale has been PeaceTrees Vietnam which combined removing landmines with tree planting on a major battlefield of the Vietnam War. U.S. Vietnam vets worked side by side with Vietnamese. See the PeaceTrees Vietnam website and also the prize-winning video made to commemorate this great peacemaking effort.

Citizen Diplomacy Trips. Danaan Parry led the first Earthstewards citzen diplomacy outreach in 1983, an exchange of visits by Americans and Russians. Begining in 1990, Danaan initiated a citizen diplomacy project in the Middle East. Leah Green continued this work and led 11 citizen delegations to Israel, the West Bank, Gaza and Jordan from 1991 through 1997. Our work in the Middle East was so successful that in 1998, Leah founded a separate non-profit organization, Mid-East Citizen Diplomacy. Their main project is the Compassionate Listening Project, which focuses on Jewish-Palestinian reconciliation.

Global Citizen Journey. The vision for Global Citizen Journey evolved from the international grassroots experiences of Citizen Diplomacy, The Compassionate Listening Project and Peace Trees, and was catalyzed by connections made during a conference called The Practice of Peace. Global Citizen Journey joins listening ears, open hearts and ready hands across countries and continents. We envision an environment of deep, ongoing cross-cultural exchange that builds understanding, global connectedness and world peace.

Nicaragua Day Care Center. Please click on Nicaragua Day Care for new and changing information about the Day Care Project. This is one that needs some immediate support.

Caring Clowns International. We clown to heal and expand the human spirit: people-to-people, country-to-country and culture-to-culture. We raise money to accomplish good in the world. We fund projects which improve people's lives. And, we clown to help awaken the human spirit: making people laugh, helping to heal, and connecting people to their individual humanity. http://www.caringclownsinternational.org/index.htm

Essential Peacemaking Women and Men. The current major training program is Essential Peacemaking: Women and Men. These trainings were designed by Danaan and his wife Jerilyn Brusseau to include a trainer certification program and can be presented by any certified pair of trainers. There are 400 accredited facilitators around the world.

This workshop is not about romance, or sex, or love partners. This is about ordinary men and women bringing all of their gifts to the party. The co-leadership that results is more than the sum of male and female leadership - there is magic involved
Danaan Parry and Jerilyn Brusseau


Essential Peacemaking: Women and Men workshops provide a safe environment designed for individuals who are committed to:
Creating healing dialogues between and within the genders.
Sharing old and present fears, hurts and miscommunications.
Building trust, synergy, and partnership between the genders.
Exploring new techniques for interpersonal and intergender communication.
Discovering what the other gender really wants from us.
Reconciling our differences.
Learning to appreciate the different ways each gender processes and relates to problems.
Go to Essential Peacemaking for more details.
EPWM Facilitators
There are many EPWM facilitators qualified to present the EPWM programs. Connect with any of these people to arrange a training.
Trainings
Several past trainings, notably Eagles, Warriors of the Heart, and Advanced Warriors of the Heart have been discontinued due to the death of our founder Danaan Parry, who was uniquely qualified to conduct them.  We are seeking to develop new training programs in several areas.
Create a Project under our Umbrella
You may be able to create a project under our sponsorship and thus under our tax-deductible qualification. Go to Starting Your Own Project for more information.